The Nike Blazer has a rich history that spans back to the early 1970s. Originally designed as a basketball shoe, the Blazer quickly became popular among both athletes and sneaker enthusiasts alike. Its classic design, featuring a high-top silhouette and a rubber toe cap, made it the perfect shoe for the court.
As the sneaker industry evolved throughout the 1980s and 1990s, so did the Nike Blazer. The shoe underwent various transformations, with the introduction of the Blazer Low and Mid versions, featuring a more streamlined and versatile design. The Blazer Mid '77 Vintage, a retro-inspired release, captures the essence of the original 1970s Blazer and pays homage to the shoe's rich history.
Throughout the years, the Nike Blazer has also been favored by various cultural icons and style influencers, from musicians to athletes to actors. In the 1980s, Run-DMC famously wore Blazers during their performances, while basketball legend Michael Jordan wore Blazers during his time at the University of North Carolina. More recently, celebrities like Kendrick Lamar and Bella Hadid have been spotted rocking the Blazer, cementing its place as a timeless and stylish sneaker.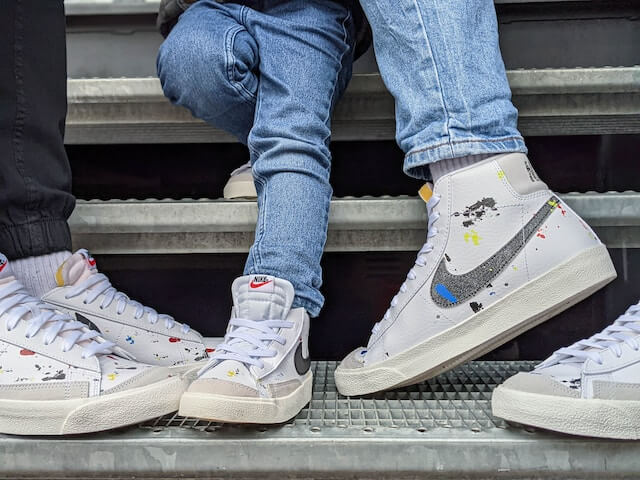 Despite its evolution over the years, the Nike Blazer has remained true to its original design and ethos: a versatile and stylish sneaker that can be worn on and off the court. Its timeless design and innovative technology, such as the incorporation of Zoom technology into the sole, make it a favorite among sneaker enthusiasts around the world.
So whether you're a fan of the classic high-top design, or prefer the more modern low-top or mid-top versions, the Nike Blazer is a shoe that truly stands the test of time. With its rich history, iconic design, and high-performance technology, the Blazer is a must-have in any sneaker collection.
Ready to add a pair of Nike Blazers to your personal collection? With a variety of colors, materials, and styles to choose from, you're sure to find the perfect pair of Blazers to suit your unique style. Head over to Shoemondo and browse the entire collection of men's Blazers here, and here for women's Blazers, and step up your sneaker game today!
Resources
Nike Blazers - Wikipedia
Main Photo by Grailify - Unsplash
Secondary Photo by Edoardo Cuoghi - Unsplash