Get ready to elevate your shoe game and make a statement with the hottest trend of the season: over-the-knee boots! These bad boys, commonly known as cuissard or simply OTK, have been taking the fashion world by storm and are a must-have for every fashion-savvy woman.
Not only do they keep your legs warm and cozy during the colder months, but they also add a touch of elegance to any outfit. Whether you're going for a sporty vibe with a pair of jeans and leggings or dressing it up with a classic skirt or dress, over-the-knee boots are the ultimate versatile shoe.
And let's talk about the total black style, it's a game-changer. It exponentially increases the possibilities to use them for all winter outfits, or to wear them with colored garments, especially the green ones, to illuminate the look by highlighting both legs and shoes.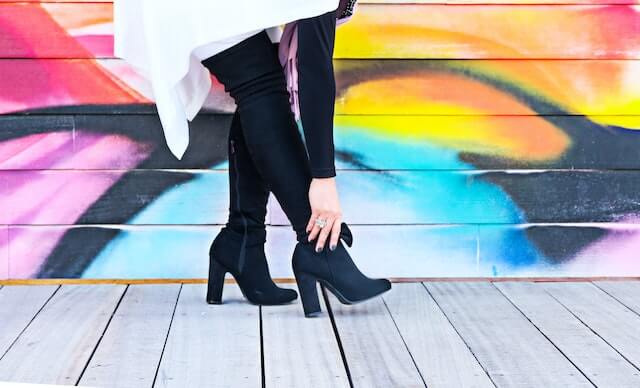 If you're on the hunt for the perfect pair, we've got you covered. Our top pick for the season is a pair made of suede[1] and stretch fabric[2], ensuring the perfect fit, comfort, and style. These boots are suitable for all calf sizes, even for those with muscular calves who have difficulty wearing over-the-knee boots. And the heel with a maximum size of about 9 cm, although not very high, it's quite comfortable and pleasant to use them daily.
So, what are you waiting for? Head over to Shoemondo to get your hands on the hottest trend of the season and elevate your shoe game like never before. Trust us, you won't regret it! Make sure to check out our collection of over-the-knee boots, cuissard, and OTK boots, and find your perfect pair.
Resources
Suede - Wikipedia
Stretch fabric - Wikipedia
Photos by Tamara Bellis - Unsplash